Darren Chester urges to new prime minister to visit Latrobe Valley and expands project funding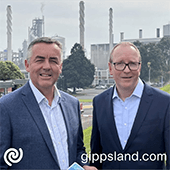 A range of projects announced and budgeted for under Coalition government have no formal contracts in place
Federal Member for Gippsland Darren Chester has written to new Prime Minister Anthony Albanese regarding the funding of local projects which are critical to the future of the region.
Mr Chester urged the new Prime Minister to visit the region and to ensure essential projects in the Latrobe Valley are funded under the new government. "There are a range of projects that were announced under the previous coalition government and were budgeted for but no formal contracts have been entered into."
Member for Gippsland Darren Chester with David Jettner, Opal General Manager, Corporate Development & Strategic Projects, at the recent announcement of the Energy from Waste Project at Maryvale Mill in the Latrobe Valley
Mr Chester also said, "While I can appreciate the incoming government having its own priorities, these projects are critical to the energy and manufacturing transition which is underway in Gippsland. These projects are all directed at sustainable long-term jobs through co-investment with the private sector in new energy or manufacturing initiatives."
Long-term job sustaining projects
The projects include:
South East Australia Carbon Capture and Storage Hubs, Esso Australia, $40 million
Gippsland Renewable Energy Park, Octopus Group, $8.5 million
Indoor barramundi farm at Maryvale Mill, Mainstream Aquaculture, $30 million
Energy from Waste project at Maryvale Mill, Masdar Tribe Australia, $48.2 million
Latrobe Valley Blue Hydrogen, Zero Degrees Rosella, $2.98 million
Mr Chester said the projects included major co-contributions from the private sector partners. "These projects are major investments in our region and are significant drivers of economic sustainability especially with the transition taking place over the next 20 years."
"I trust that Mr Albanese and his government will see the importance of the projects not only for Gippsland but for the state of Victoria. The Latrobe Valley has been powering the state for many years and it is essential that investments are made to keep our region strong." Mr Chester said.
Pictures from Darren Chester MP website.
Source: http://gippsland.com/
Published by: news@gippsland.com