One Gippsland submits freight fast-track, tourism recovery, digital connectivity and job creation as funding priorities 2022/23 to governments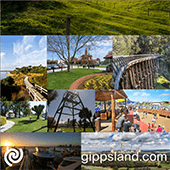 Gippsland needs strategic investment from the government so we can not only recover from COVID restrictions, fires, floods and changing industries - but so that we can continue to be strong contributors to the national economy
A number of local projects have been identified that will work to increase the liveability and prosperity of our regional cities and local towns.
One Gippsland has laid out the region's investment priorities to both levels of government to drive the recovery and growth of the region. With elections around the corner, One Gippsland has submitted its key funding priorities to both the Australian and Victorian Governments for consideration in the 2022 budget development process.

One Gippsland has identified in the pre-budget submission the four priority investment areas that will enable a kick-start to the economic recovery of the region
Support for recovery
Latrobe City Council Mayor and Chair of One Gippsland Cr Kellie O'Callaghan said, "We are making a strong case to both levels of government to deliver tangible outcomes across the region, which will support recovery from the pandemic for our growing population and help us on our way to becoming one of the most liveable regions in Australia."
"Gippsland needs strategic investment from the government so we can not only recover from COVID restrictions, fires, floods and changing industries - but so that we can continue to be strong contributors to the national economy" Cr O'Callaghan explained.
Accommodate Gippsland's growing population
The Gippsland region is one of the fastest growing in the state, with population expected to grow by 26 per cent by 2036. "We know that people move here for the lifestyle, but they will only choose to stay if they have great career and business opportunities, high levels of digital connectivity, road and rail connections to Melbourne and the opportunity to be innovative," said Cr O'Callaghan.
Gippsland is both a food bowl and a key resource supplier to Melbourne, with the region expected to supply 24 million tonnes of extractive sand per annum by 2050. Gippsland's food and fibre industry is expected to grow considerably, to have a gross value of over $23 billion by 2050.
Guide for government investment
This submission intends to guide government investment into the Gippsland region by setting out a range of projects and strategies that will not only improve the liveability within the region, but also the economic output and the creation of more jobs.
The four priority regional investment areas are:
Freight fast-track: network investment, planning and road safety
Tourism recovery: tracks and trails and support for major events
Digital connectivity: mobile and broadband network improvements
Job creation: building the economy and skilling our youth
The One Gippsland Pre-budget Submission 2022-23 identifies the investment needed to kick-start the recovery of the region and seize the economic opportunities on its doorstep.
Pictures from One Gippsland website.
Source: http://gippsland.com/
Published by: news@gippsland.com