Gippsland Startup wins a trip to China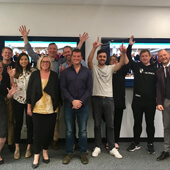 Little Bumble Reusable Food Wraps founder wins trip to China
Laura Eddington from Warragul and founder of Little Bumble Reusable Food Wraps wins a two day hackathon to Nanjing, China. Find out more about this exciting development for the company.
Laura Eddington, Warragul-based founder of Little Bumble Reusable Food Wraps wins last nightís pitch to travel for a 2 day hackathon on the 14-15th May in Nanjing China.

The April 2nd pitch at Federation University Gippsland campus was organised by Runway and supported by the City of Melbourne and Federation University Australia who partnered for the upcoming Nexus Jiangsu-Victoria Startup Summit 2019. Startup Gippsland was thrilled to support this exciting opportunity for startups in Gippsland.

Little Bumble is a certified Australian made and owned food storage solution offering reusable food wraps that keep your food fresher for longer. These handmade, sustainable and beautiful wraps, shape around food items and kitchenware with the warmth of your hands.

The short winning video and event images have been published on Startup Gippsland Facebook Page on April 2nd, 2019.

Laura Eddington is currently a participant of the Startup Gippsland program designed to support startups across Gippsland. The program includes a 12-week program for selected startups, profiles of existing local startups to inspire the community, and a series of meetups and one-off events that are open to the public. Funded by LaunchVic, itís a project by the Bass Coast Shire, Baw Baw Shire, Latrobe City and Wellington Shire councils, aiming to ignite the startup ecosystem across these 4 local government areas.


Source: http://gippsland.com/
Published by: support@gippsland.com