Early closure of coal-fired power station AGL Loy Yang requires considered transition for Latrobe Valley and Victoria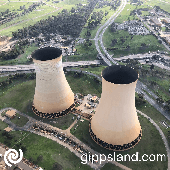 Council will also suffer a significant loss of rates income from the closures, with an estimated $4 million to be lost with the closure of Yallourn and AGL Loy Yang A per annum alone
With Loy Yang A to close by 2035, a decade earlier than expected, Latrobe City Council is standing by its community as it faces resulting in massive job loss.
The early closure of coal-fired power stations is a decade earlier than expected, with an original closure estimated by 2045, resulting in significant job loss for the Latrobe region as one of the largest industries locally. This news is also amplified by a new report from Energy and Resource Insights that forecasts Alinta's Loy Yang B will close by 2032 and Energy Australia's Yallourn power station by 2025 - closures two to three times sooner than expected.
Council will also suffer a significant loss of rates income from the closures, with an estimated $4 million to be lost with the closure of Yallourn and AGL Loy Yang A per annum alone
Requiring for additional support
Latrobe City Council Mayor Kellie O'Callaghan said the community was aware of impending closures and preparing for economic diversification in Latrobe City, however these early closures would create a requirement for additional support.
"Our community is strong and has persevered as the landscape surrounding one of the largest employment sectors in our region has undergone major change. However, it is understandable that our community is feeling the insecurity that surrounds the early closure of AGL Loy Yang A and early closure predictions."
"Our City has been building on our Strength Led Transition and implementing ways to diversify our economy while working with local leaders and government to secure new employment sectors and job opportunities for our people. Our transition must be considered, and a strategic approach has been required for these efforts." Cr. O'Callaghan said.
Closure impacts
Cr. Callaghan also said, "The early closures of AGL Loy Yang A and predictions for others locally, decades before they were expected, could jeopardise all this preparation. We are calling for a careful and considered approach to the early closures and additional support during this time."
"We will continue to partner with the Latrobe Valley Authority in the development of their Transition Plan for Gippsland and the Victorian government's investment in renewable energy and local jobs. However, direct support is required for Latrobe City now. Our community has proudly powered the state for generations - and while they are transitioning away from coal-fired power - we need support, as the region which will be most directly impacted through the loss of thousands of direct and indirect jobs."
"We also remain open to the renewable investment opportunities AGL has announced today and will eagerly await news to hear if Latrobe will be considered as a suitable location. We would encourage AGL to consider Latrobe as a location for these renewable projects given the region's infrastructure and skilled workforce," said Cr. Callaghan. This will impact council's ability to provide valued community services and facilities over the long-term.
Pictures from Loy Yang A Power Station Facebook page.
Source: http://gippsland.com/
Published by: news@gippsland.com