Truleen Downs Alpaca Stud Farm (New)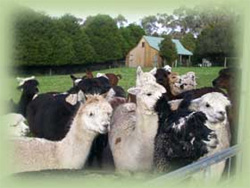 TRULEEN Downs is a delightfully unique blend of a working alpaca stud farm, farm tours, a bed and breakfast and supplier of alpaca products.
Colleen Long and Trudy Bailey, the owners of Truleen Downs Alpaca Stud Farm, breed and sell Alpacas as well as conduct tours with groups. Tours include farm walks and talks hosted by the farms owners - Colleen Long and Trudy Bailey. During the tour they talk about the Alpacas, and their origins, habits and market value.


Bed & Breakfast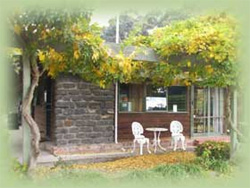 Clean comfortable self-contained accommodation with full breakfast provisions. All facilities including pool table, games and reading material. Quiet secluded location in the picturesque Toomuc Valley at Pakenham, just one hour from the CBD.
Located at the end of the house the B&B is fully self contained and private with its own entrance. Generous Breakfast provisions with a comprehensive range of modern amenities including air conditioning, TV, CD Player, Video etc.

Paca Shack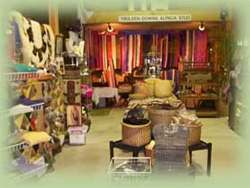 We stock beautiful, soft and long wearing Alpaca garments which include, jumpers, capes, cardigans, jackets, vests, berets and gloves.
We supply knitting yarn and fleece for spinners and have an assortment of wall hangings, continental quilts and blankets.We stock a wide range of beautifully hand made crafts, jewellery and an assortment of knits, scarves, shawls, ponchos and hats. Both Australian made and Peruvian imported.

Services at Truleen Downs:
Alpaca Sales
Agistment - Short or Long Term
Stud Male Service
Basic Alpaca Husbandry
Workshops
Fleece Spinning
Tuition
Gift Shop
Keywords: Alpaca Stud Farm, Spinning Fleece, Giftshop, Knitting Yarn, Knitwear, Bed And Breakfast, Farm Tours, Pakenham, Alpaca Agistment, Group, Seniors, Stud Services

Business Directory Categories:
Accommodation
Accommodation - Bed & Breakfast
Farming & Environment
Shopping
Travel & Tourism
Contact Name: Colleen Long
Phone: 03 5197 7488
Mobile: 0428 558 909
78 Banks Rd Gormandale
How often email is checked: At least weekly
Website: http://www.truleendownsalpaca.com.au

Page Statistics since 1/1/2008
| | | |
| --- | --- | --- |
| Displays: | 111,653 | (Number of times business has been promoted on gippsland.com) |
| Click Throughs: | 6,563 | (Number of people who clicked on business to find out more) |
Is this what you were looking for?
Click here to find other Gippsland Businesses
at gippsland.com - the Gippsland Portal