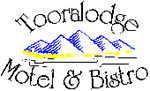 Tooralodge Motel
MOTEL & BISTRO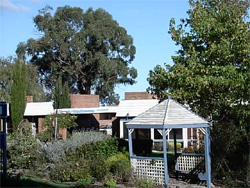 View Wilsons Promotory from Tooralodge in Toora, only 10km east of Foster on the South Gippsland Highway. Tooralodge is an attractive 14 suite motel surrounded by lush dairy countryside.
The 24 seat fully licenced bistro offers excellent country fare by the fireside or overlooking the gardens where you can enjoy breakfast and dinner.
Only 2 1/2 hours drive from Melbourne, Tooralodge is right in the heart of South Gippsland. From Toora, roads radiate to all the unique attractions and activities that our area is unique for.
Tooralodge is a relaxing haven for individuals, couple or families who want to spend a few nights in South Gippsland.

TOORALODGE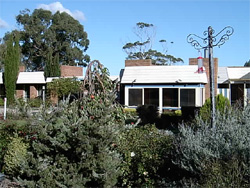 Friendly Service, Garden Furniture on Spacious Lawns, Baby Needs, Boat Parking, Brochure-based Tourist Information Centre,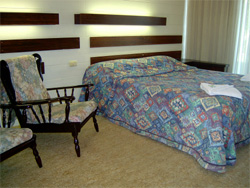 SUITES
Colour TV, DVD Players, Clock Radio, Toaster, Tea and Coffee, Mini Bars, Sliding Glass Doors, Individual Hot Water Service, Refridgerators
ACTIVITIES
Bushwalking, Museums, Boats of Fishing/Diving, Canoaing, Golf, Wineries, Arts/Crafts, Horseriding

ATTRACTIONS
Wilsons Promotory, Tarra-Bulga N.P, Agnes Falls, Corner Inlet Marine Park, Port Albert, Ninety-Mile Beach, Coal Creek Historic Village, Phillip Island, Toora Wind Farm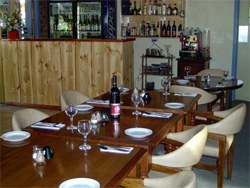 Keywords: MotelAccommodationWind Farm, Wilson Prom, Tarra Bulga, Restaurant, Agnes Falls, South Coast, Holidays, Small Functions, Fishing, Spa Room, Moderate Tariff, Wind Farm, DVD Players

Business Directory Categories:
Accommodation
Accommodation - Holiday
Accommodation - Hotels & Motels
Accommodation - Lodges & Cabins
Food & Wine
Food & Wine - Restaurants
Travel & Tourism
Contact Name: Julie McGrath
Phone: 03 5686 2666
Fax: 03 5686 2710
Mobile: 0428 742 232
4930 South Gippsland Highway Toora 3962 Toora
How often email is checked: Every business day
Website: http://www.tooralodge.com.au

Page Statistics since 1/1/2008
| | | |
| --- | --- | --- |
| Displays: | 97,901 | (Number of times business has been promoted on gippsland.com) |
| Click Throughs: | 3,185 | (Number of people who clicked on business to find out more) |
Is this what you were looking for?
Click here to find other Gippsland Businesses
at gippsland.com - the Gippsland Portal