Talstain Pty Ltd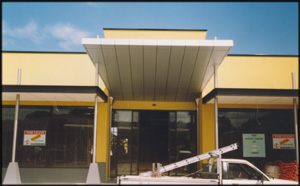 Talstain sheetmetal and engineering has been manufacturing quality and cost effective products for industrial, commercial and domestic needs for 12 years. We are capable of meeting most productive requirements with guillotining, pressing, punching, rolling and forming of all steels and alloys.
We also cover a broad range of welding procedures in tig and mig as well as cutting with plasma and flame equipment. We manufacture, repair, supply and modify at competitive prices.
All our qualified tradespeople have an extensive knowledge in the sheetmetal and engineering industry.
Some of the services we offer:

stainless steel fabrication & repairs
aluminium fabrication & repairs
galvanizing & mildsteel fabrication
& repairs
plasma cutting
rolling & forming
cold saw cutting

pressbrake folding
zincalume & colourbond
flashing & gutters
sumps & rainheads
boilers, pipes & vessels
architectural work
commerical kitchen equipment
---
Keywords: Sheetmetal, Aluminium, Steel, Welding, Engineering, Stainless Steel, Kitchens, Colourbond, Flashing, General Fabrication, Galvanising, Steelwork, Tanks, Zincalume

Business Directory Categories:
Business To Business
Business To Business - Engineering
Manufacturers & Suppliers
Manufacturers & Suppliers - Engineering
Manufacturers & Suppliers - Industrial
Trade Services & Supplies
Trade Services & Supplies - Welding
Contact Name: Rob Tomczyk
Phone: 03 5143 2690
Fax: 03 5143 2731
Mobile: 0427 432 690
11 Union Street Sale
How often email is checked: Every business day

Page Statistics since 1/1/2008
| | | |
| --- | --- | --- |
| Displays: | 37,815 | (Number of times business has been promoted on gippsland.com) |
| Click Throughs: | 2,288 | (Number of people who clicked on business to find out more) |
Is this what you were looking for?
Click here to find other Gippsland Businesses
at gippsland.com - the Gippsland Portal