Mirboo North Golf Club
Situated in the heart of the Strzelecki Ranges a pleasant 90 minute drive from Dandenong.
Spectacular towering gums peer down onto any visiting golfers at the tiny Latrobe Valley town of Mirboo North. This is the only town on the Grand Ridge Road and on the Strzelecki Highway that links the two large regions of Latrobe and South Gippsland. One of the most historic and picturesque townships in the region, Mirboo North is decorated with works of an artist who has captured the era of days gone by.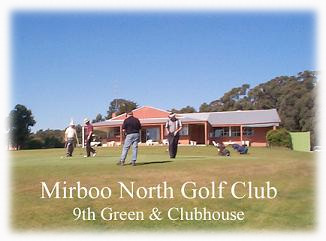 The golf course has all the features and conditioning of a country layout with the spectacular, straight-trunked gums. The best holes include the 160-metre par-three 16th played from an elevated tee to a green moulded into the exisiting landscape. Local members dubbed it Plum Pudding for its bowl shape. However it falls into second behind the cleverly designed 381-metre par-four 8th. The green is visible from the elevated tee, however the double-dogleg fairway forces players to flirt with the trees on the right to get a clear shot at a long second to an elevated green.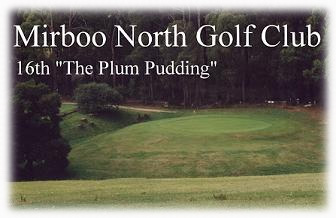 The course has been at its current location since 1972, while the club was formed in 1920. Today it is one of the few layouts east of Melbourne that can boast on-course accommodation. The 1st T Motel is just metres from the first tee. The 13-rooms are two years old and feature fully self-contained facilities. the best package includes two-nights accommodation, two rounds of a golf and a dinner voucher, priced at $120 per person, twin share. The clubhouse, which can cater for large groups, is set a top this hill, but well below the towering gums. The course has also become home to the Victorian Golf Association's advanced junior training camps and the Victorian Golf League's annual junior camp.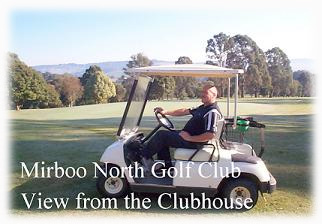 How To Get There
At the Morwell end of Mirboo North, turn off the Strzelecki Highway into Galvins Road. Take the turn into the golf club.

Green Fees
$17 all day. Hire carts available
---
Keywords: Golf Club, Motel, Golf Packages, Accommodation, Golf Membership

Business Directory Categories:
golf.gippsland.com
golf.gippsland.com - Golf Courses
Sports & Hobbies
Sports & Hobbies - Golf
Contact Name: Stan Evison - Manager
Phone: 03 5668 1515
Fax: 03 5668 2501
Mobile: 0409 566 815
16 Galvins Road Mirboo North
How often email is checked: Every business day

Page Statistics since 1/1/2008
| | | |
| --- | --- | --- |
| Displays: | 109,365 | (Number of times business has been promoted on gippsland.com) |
| Click Throughs: | 12,657 | (Number of people who clicked on business to find out more) |
Is this what you were looking for?
Click here to find other Gippsland Businesses
at gippsland.com - the Gippsland Portal