Russell Northe calls for proof of vaccination rules to end as hard to understand logic or rationale for them to still exist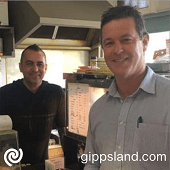 When the Victorian government lift the proof of vaccination restrictions
Mr Northe raised with the Minister as to when the vaccine mandate rules will be removed for employees which the Member for Morwell also asked back in October 2021.
Member for Morwell, Russell Northe has used Parliament last week to ask in the Parliamentary debates Minister for Health as to when the state government intends to lift the requirement to provide proof of vaccination to enter certain venues in Victoria. Under Victoria's current COVID rules one is required to be double vaccinated to enter settings such as:
Bars and restaurants

Nightclubs and cafes

Cinemas and live music venues

Zoos and museums

Walking tours and tourist buses

Casino/gaming venues and adult entertainment venues
"It's hard to understand the logic or rationale for these rules to still exist in Victoria particularly when other states like New South Wales and Queensland have previously announced the removal of such requirements." Mr Northe commenced.
The federal minister put out a statement talking about the fact that lockdowns in Victoria, the ACT and New South Wales have contributed that refers to big impacts on communities
Vaccination status inconsistent
Mr Northe said, "The business community has been through enough these past couple of years, yet they are still required to enforce the government rules which comes at a resourcing and financial cost for no obvious health or other benefit."
"The requirement to prove one's vaccination status is so inconsistent across different settings it just makes no sense. One could be on a crowded tram or train for example and not prove their vaccination status, yet you can have a handful of people on a tourist bus, and you would have to prove you are double vaccinated" Mr Northe continued.
Placing great faith in testing
Mr Northe also said, "In question time in October of last year I quizzed the Minister as to when the vaccine mandate was likely to be lifted for workers and in part the Minister replied at the time that the measures might be needed until as long as April 2022."
"Of course, it is now April 2022 and with such strong vaccination rates in Victoria and with the government now placing great faith in testing including rapid antigen testing it doesn't seem right that Victorian citizens are still precluded from employment opportunities in non-vulnerable settings due to their vaccination status. Why unvaccinated persons can't be allowed to undertake regular testing to maintain their career or employment makes no sense in the current environment." Mr Northe continued.
"Despite the federal government stating vaccinations are voluntary in this country, Victoria now has two classes of citizens, the vaccinated and unvaccinated. Just because some have done their research and concluded that the vaccination is not for them, they should not be discriminated against but that is precisely what is happening in this state" Mr Northe concluded.
Pictures from Russell Northe MP Facebook page.
Source: http://gippsland.com/
Published by: news@gippsland.com