Traralgon & District Art Society
Traralgon & District Art Society brings art to the public through art classes, social painting with fun and lasting friendships
Please note that the 'Traralgon and District Art Society' has moved to
23 Dunbar Road, Traralgon (Connecting2Australia).
Please go to back entrance.

Call us on 5176 6000 and leave a message
or send us a message using our contact form below.

Bringing art to the public
The Traralgon and District Art Society (TADAS) was formed in 1982 and has had their home in a few locations. The longest being 23 years in the old historical railway station. We have have recently moved to a new venue, Connecting2Australia, at 23 Dunbar Road, Traralgon. Please use the back entrance to the building.
We have a large painting studio with wheelchair facilities. Currently we have over 90 members. There are teens and children involved in various art activities.
What our art tutors teach
We offer classes for all ages and levels, including learners. Our tutors teach:
Landscape
Still life
Mixed media
Painting
Drawing with charcoal
Pastel painting
Art classes available to the public
Our classes are usually held during school terms. Occasional we hold weekend workshops during the year and life drawing.
Teen classes
Thursday night 7pm- 8:30pm - cost $20 per session


Adult class
Monday and Friday morning 10am to 12 midday - cost $10 per session


Social painting
Thursday 10am to 3pm


Childrenís class - ON HOLD FOR 2022

Become a member
New members are most very welcome. Remember we do have wheelchair facilities. Memberships fees for a full year are as follows:
Adults $45
Concession $40
Teens $10
Children $5
Feel free to ring 5176 6000 and leave a message please.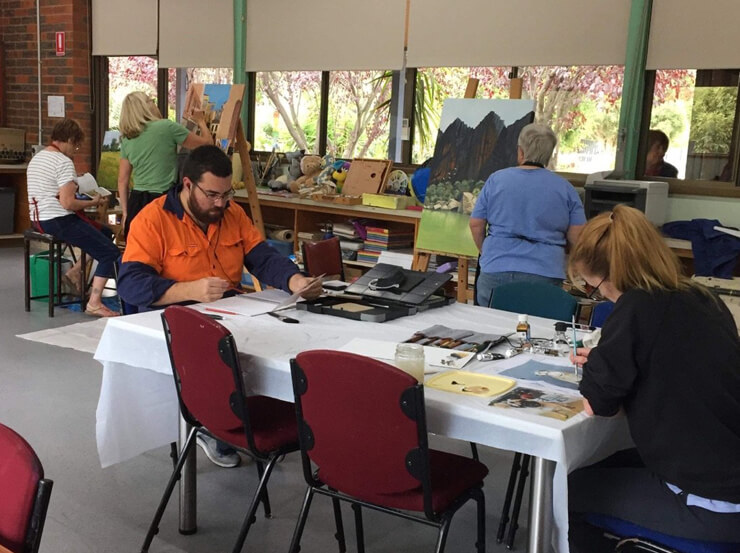 Traralgon District Art Society - Art and Painting classes available
Keywords: Art Classes, Oil Painting, Acrylic Painting, Watercolour Painting, Teenagers Art Classes, Kidís Classes, Life Drawing, Adult Night Art Classes, Mixed Media Class, Drawing Classes, Art Tutor, Wheelchair Facility, Learn To Paint, Learn To Draw

Business Directory Categories:
Arts & Culture
Arts & Culture - Craft
Arts & Culture - Galleries & Studios
Arts & Culture - Groups & Classes
Travel & Tourism
Contact Name: Andrea Ramsay
Mobile: 51766000
23 Dunbar Road (go to back entrance) Traralgon
How often email is checked: At least weekly

Page Statistics since 1/1/2008
| | | |
| --- | --- | --- |
| Displays: | 165,982 | (Number of times business has been promoted on gippsland.com) |
| Click Throughs: | 21,871 | (Number of people who clicked on business to find out more) |
Is this what you were looking for?
Click here to find other Gippsland Businesses
at gippsland.com - the Gippsland Portal