Traralgon & District Art Society
Traralgon & District Art Society Inc. is bringing art to the public with a working studio and Art gallery.
The Traralgon & District Art Society ( TADAS ) was formed in 1982 and is located an Traralgon's former Railway Station on Queens Parade. The society aims to make each visit a visual experience with all pieces available for purchase. The Art society was fortunate in gaining this location in 1998 and since then refurbished the Railway station into a pleasant working environment. Currently the society has 70 members involved in various art activities. We offer classes for all ages and levels, with tutors teaching Landscape, Still Life, Mixed media and many more. Paint out days and social activities are also features of the Society.
Visit our gallery
The working studio is available to members, with an Art Gallery "Art On Track Gallery"to display their work. The Art studio invites the public to view a working studio with gallery. We are open Monday, Tuesday, Thursday and Friday 10:00am to 3:00pm
Classes available to public
When volunteers are available:
Childrens classes are Monday and Thursday nights 4.30pm to 6:00 pm - Cost $2 membership $5 each night (Currently waiting list)
Adult classes Wednesday nights 4.30pm to 7:00pm - Cost $10 membership $15 per night during term with Lyn Wright
Teen Classes held Thursday night 7pm to 8.30 with Lyn Wright - Cost $10 membership $15 per night during term start anytime
Also classes on Monday and Friday morning 10:00am to 12:00pm during term for drawing & painting - Cost $10 plus membership.
Join up and pop in any time to paint - Memberships $45 or $40 Concession and due from Feb 2019.
Ring 0427977252 leave a message.
New Members very welcome. Wheelchair facilities available.
New adult classes starting From Feb '19, Sunday arvo Watercolour $45 and Friday night art journaling monthly $20 ring 0429301217 Adult Life drawing stating March '19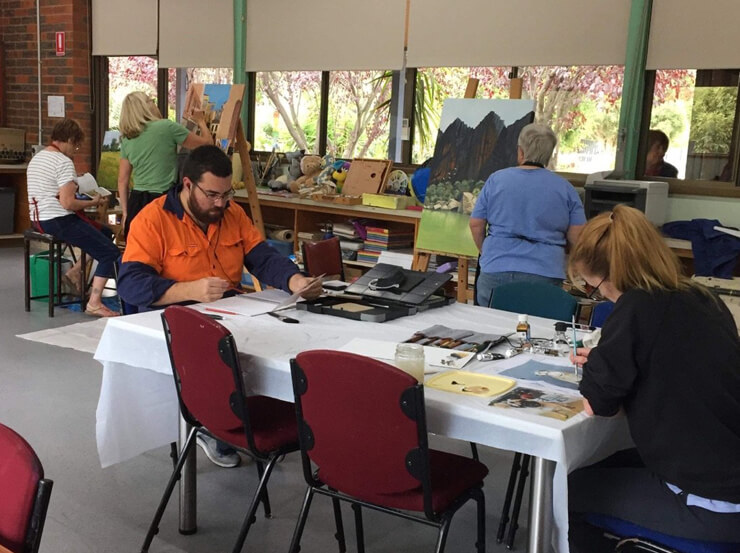 Traralgon District Art Society - Art and Painting classes available
Keywords: Sunday Arvo Classes, Art Studio, Life Drawing, Paintings For Sale, Oil Painting, Wheelchair Facility, Childrens Classes, 'Art On Track Gallery', Drawing Classes, Mixed Media, Art Gallery For Hire, Old Railway Building, Art Classes, Teenagers Art Lessons, Watercolour Painting, Pastel Painting

Business Directory Categories:
Arts & Culture
Arts & Culture - Craft
Arts & Culture - Galleries & Studios
Arts & Culture - Groups & Classes
Travel & Tourism
Contact Name: Andrea Ramsay
Mobile: 0427977252
Old Railway Station, Queens Parade Traralgon
How often email is checked: At least weekly

Page Statistics since 1/1/2008
| | | |
| --- | --- | --- |
| Displays: | 130,400 | (Number of times business has been promoted on gippsland.com) |
| Click Throughs: | 18,820 | (Number of people who clicked on business to find out more) |
Is this what you were looking for?
Click here to find other Gippsland Businesses
at gippsland.com - the Gippsland Portal