Ryan's Transport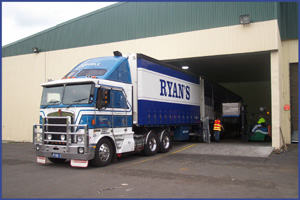 With over 50 years in the transport business, Ryan's Transport not only has the experience, but the equipment and expertise to fulfil all of you transport needs.
Our modern fleet of vehicles and well-trained team of drivers ensure your freight arrives on time, intact and is delivered with the friendly service you would expect for you and your customers.
Ryan's Transport has recently been awarded the prestigious 'State Operator of the Year' at the Austalian Freight Industry Award.
Our extensive combination of equipment goves us the capability to service the needs of all our regular cutomers or the ;one off' tranport need that may be required.
Some of the regular work that we provide for our customers includes:
Regular Country to City palletised freight

Interstate Work

Licensed Dangerous Good carriers

Oversized loads - including provision of pilot vehicle

Transport of tractors and agricultural equipment

Refrigerated transport

24/7 operation

Storage and Distribution 
Keywords: Transport, Freight, Distribution, Cartage, Storage, Trucks, Fork Lift, Equipment Hire, Dangerous Goods, Crane Truck

Business Directory Categories:
Trade Services & Supplies
Trade Services & Supplies - Hire & Leasing
Transport & Freight
Transport & Freight - Distribution & Cartage
Transport & Freight - Hire & Leasing
Contact Name: Daryl Bone & Tom Ryan
Phone: 03 5662 4188
Fax: 03 5662 2990
Mobile: 0409 613 664
Ashendon Street Leongatha
How often email is checked: Every business day

Page Statistics since 1/1/2008
| | | |
| --- | --- | --- |
| Displays: | 123,214 | (Number of times business has been promoted on gippsland.com) |
| Click Throughs: | 20,105 | (Number of people who clicked on business to find out more) |
Is this what you were looking for?
Click here to find other Gippsland Businesses
at gippsland.com - the Gippsland Portal